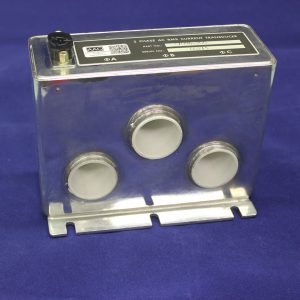 July 12, 2016 – Farmingdale, NY. American Aerospace Controls Inc. (AAC) today announced that it has developed a three-phase current sensor in a single package (Part Number: S1096). This unique device replaces three individual single-phase current sensors thereby reducing weight and increasing reliability. The single package, with its simpler installation, further increases the reliability of the installed system.
The three-phase current sensor provides separate 4 – 20 mA outputs for each phase though a single D-Sub connector. It is available in one of 16 ranges from 2 to 1,000 Amps. True RMS sensing is provided with an accuracy of +/- 0.5% and the sensor is environmentally qualified in accordance with the industry-standard requirements of DO-160E.
Bob Baumert, AAC's Vice President of Engineering, said "We built this unique sensor to satisfy the demanding requirements of major equipment manufacturers supplying the mining and heavy construction industries." Customers have already placed orders, some for new manufacture and others for retro-fit to improve system reliability.