May 28, 2015 – Farmingdale, NY.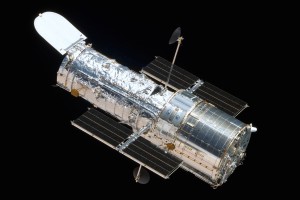 American Aerospace Controls Inc. (AAC) today celebrated the 25th anniversary of the Hubble Space Telescope, which contains 34 different components made by AAC. Launched on April 24th, 1990, Hubble was expected to survive for only a dozen years (7 years storage and 5 years operational). However, servicing missions have repaired and replaced several of the optical and gyro systems and now the telescope is expected to continue providing valuable science until 2020. This represents a total life of approximately 10 years storage and 30 years operational.
AAC's customer, Lockheed Corporation (now Lockheed-Martin), built the spacecraft systems that incorporate the 34 sensors made by AAC. These sensors include a variety of AC and DC current, voltage and frequency sensors. Other contractors made Hubble's scientific instruments, including an optical telescope, cameras, spectrographs and photometers.
Design and construction of Hubble started in the late 1970's and there were a number of delays, the most notable of which was due to the 32-month suspension of Shuttle missions as a result of the Challenger explosion in 1986. Finally launched in 1990, there have been five servicing missions to repair, update or replace the various scientific instruments and navigational gyros.
Kevin McBrien, AAC's Vice-President of Sales said "We're very proud to celebrate this milestone. While Hubble was launched 25 years ago, we delivered our components nearly 35 years ago. That they are still performing is a testament to our continuing commitment to quality and reliability."
About AAC
American Aerospace Controls Inc. (AAC) provides rugged, high-performance, high-reliability current and voltage sensors for demanding aviation, space, military, rail and industrial applications. Celebrating its 50th anniversary this year, AAC is a woman-owned business that is ISO-9001C and AS9100 certified. It's experienced engineering design team and in-house environmental testing facilities allows it to assure customers of made to order sensors with zero defects and six-sigma reliability in-service.
Contact: Mike Venables
mvenables@a-a-c.com
(613) 204- 2413
https://www.a-a-c.com